TreeView User Guide
Import an existing tree
You can import your tree from a different program using a GEDCOM file. This is a type of file that can be exported from one family history program and imported into another.
To import your tree into TreeView:
Click 'File' > 'Import GEDCOM'
Under the 'File Location' heading, click 'Browse' and select the GEDCOM file you wish to import
If you want to import the GEDCOM file to your current tree, tick the 'current project' box. If you want to import the GEDCOM file into a new tree, enter a name for the tree in the 'Tree Name' box, and choose the location for the tree by clicking the 'Change Location' button under the 'Tree File Location' heading.
If you do not want to sync this tree with TreeView Online/TheGenealogist, then untick the 'Sync with TreeView/TheGenealogist online tree' box.
Click 'Import' to import your database.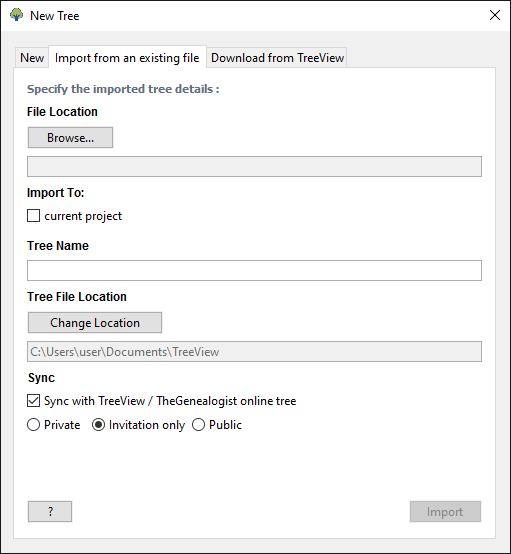 For instructions of how to export from your existing software or website click here.
TreeView™ ©Genealogy Supplies (Jersey) Ltd 1992-2023. All rights reserved.