TreeView User Guide
Find an individual
To search for an individual in your database, click on 'Edit' along the top of the toolbar, then select 'Search Individual'. Alternatively you can press CTRL + I on your keyboard.
To search on just a name, you can enter the first and/or last name of the individual in the 'Name' section on the left hand side of the window. You can then hit 'Enter' on your keyboard, or click the 'Search' button to search. You will see a list of search result appear at the bottom of the window.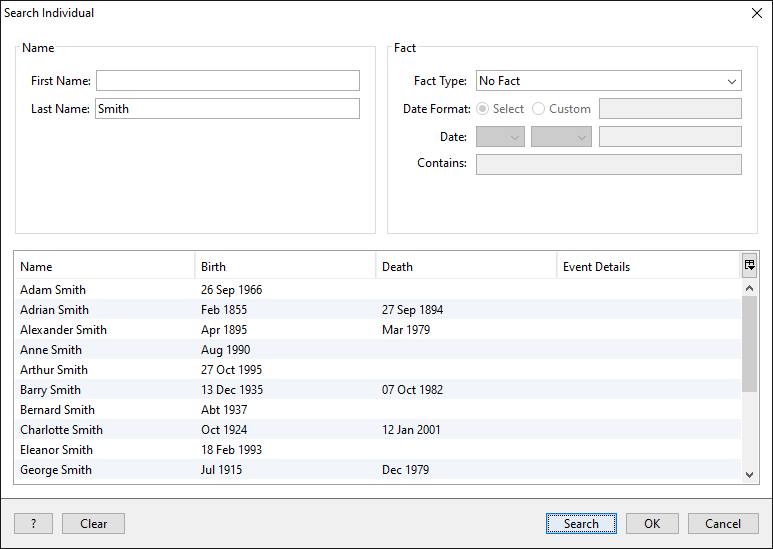 You may want to see particular facts for an individual. The 'Fact' section on the right hand side offers some useful search functions.
Fact Type - this allows you to choose whether you want to narrow down your search results using facts.

No Fact - this is the default option, allowing you to search without using facts.
All Facts - this will show all facts for each individual in your result list. For example, if you have three facts for 'Adam Smith', then he will be shown three times in your search results.
Selected Fact, e.g. Death - this only shows results for individuals that have this fact, e.g. selecting 'Death' will only show individuals who have a Death fact attached to them.

Date Format - Allows you to enter a date for the fact/s you are searching on.
Contains - Enter text from the fact description that could narrow down your results, for example if you are searching for someone who was born in Dorchester, enter 'Dorchester' into this box.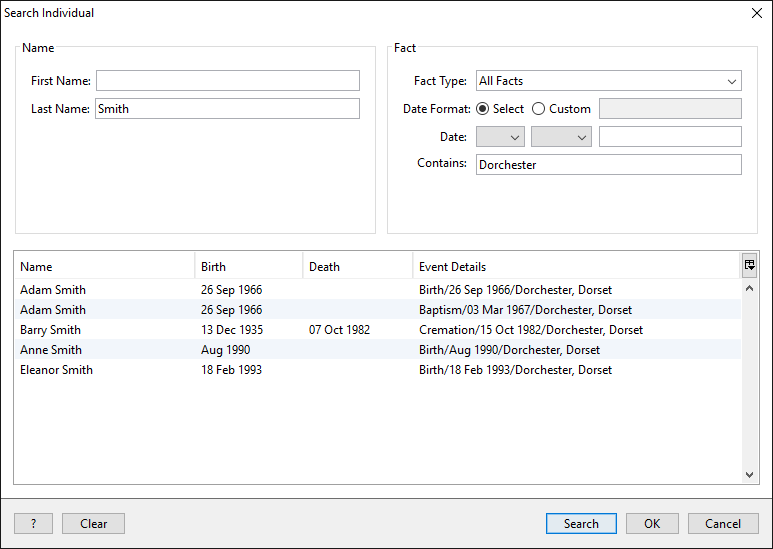 TreeView™ ©Genealogy Supplies (Jersey) Ltd 1992-2023. All rights reserved.