TreeView User Guide
Merge People
You may find at some point during your research that you have duplicate individuals in your tree. The 'Merge' tool can merge these duplicates, so you can keep your database accurate. To use the merge tool, go to the 'Tools' menu and click on 'Merge people'.
You first need to select the individuals you want to merge from the 'People List' box on the left hand side. You can use the 'Filter' box to enter a name or partial name to narrow down your results. Once you've found the person you are looking for, click on them to select them.
You can now use the 'Suggested List' box on the right hand side to find the duplicate person that you want to merge. Click on them to select them.
You will see the details for both individuals underneath in the 'Merge Persons' box. This allows you to compare the details for each individual and decide what information you want to keep.
You can now select which details you want to keep by using the drop-down boxes at the bottom of the window. You can choose to keep facts, notes, citations, media, addresses, and names of either individual, or you can merge them to keep both.

Person 1 - keeps the details for person 1 only
Person 2 - keeps the details for person 2 only
Both - keeps details from both person 1 and person 2

Once you are ready to merge the two individuals, click the 'Merge' button.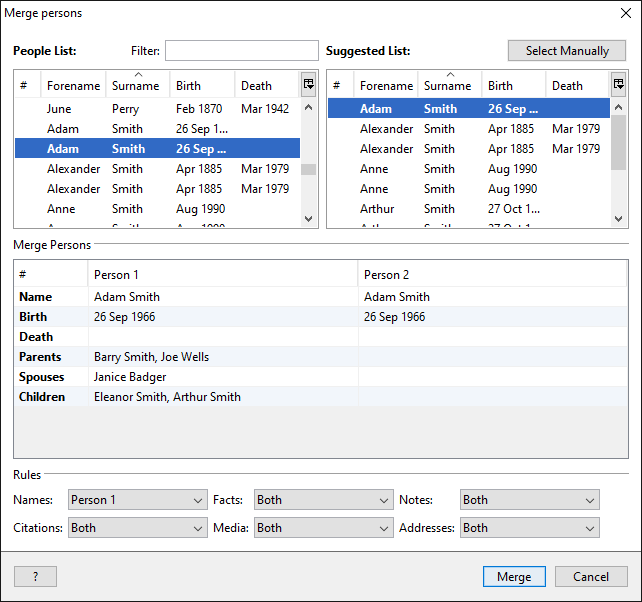 TreeView™ ©Genealogy Supplies (Jersey) Ltd 1992-2023. All rights reserved.